Regular price
Sale price
£30.00 GBP
Unit price
per
Sale
Sold out
BUY 3 GET A 4th FREE - Just put 4 hangers in the cart!
All you need to do is buy a c-monsta and BOOM!!!! 💣💥 Looking after your wetsuit kit has never been easier. 
c-monsta hangers are the best thing you'll ever buy for your wetsuit. Our unique design has been perfected to dry your gear faster, helping stop damp, smelly wetsuits, boots and gloves from ruining a great day out on the water.
We took what was good about the original c-monsta then made it better! Still made from recycled plastic but with a wider mouth, more accessory hooks, stiffer top hook and a rounder wetsuit rail. 
Every c-monsta is injection moulded from recycled plastic and shipped in a recycled cardboard box. This helps reduce our manufacturing impact on the planet and reduce waste by helping your wetsuit gear last longer.
Whether you're a surfer, sailor, swimmer, paddle boarder, windsurfer, water-skier or any cold water sports fan we guarantee you'll love your c-monsta hanger.
c-monsta loves looking after your kit!
Recycled Materials

c-monsta hangers are made from recycled plastic & our packaging is made from recyled cardboard to help reduce our environmental impact.
Designed in Scotland

The product was designed by surfers to look after wetsuit kit in the freezing north of Scotland.
Money Back Guarantee

We're so sure you'll love your new c-monsta wetsuit hanger that we offer a 30 day money back guarantee* giving you a full refund if you're not satisfied.

*UK only
Shipping Information

Free shipping within the UK.

Orders placed outside the UK may incur import duties and taxes. Please check with your local customs authority for more information.
Read more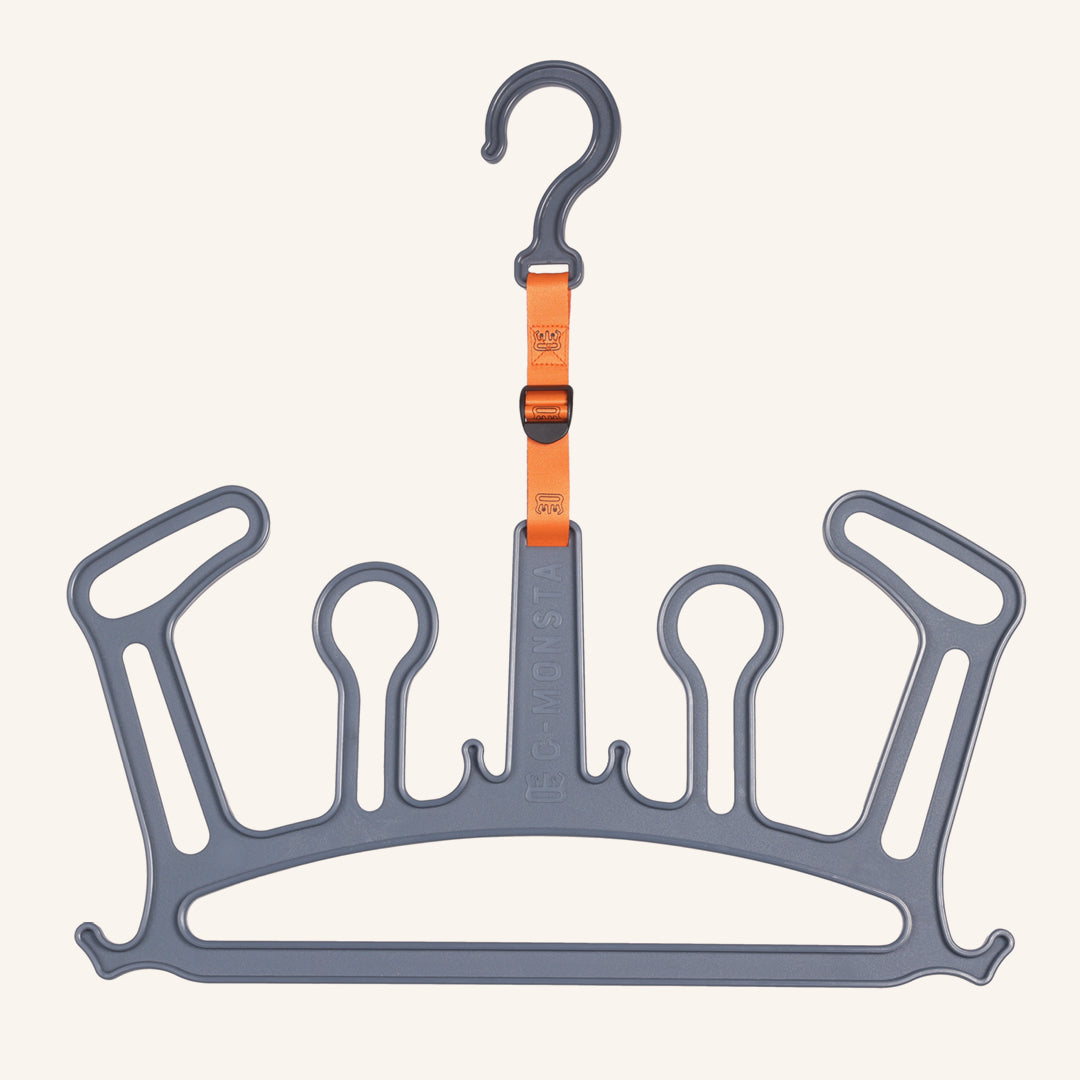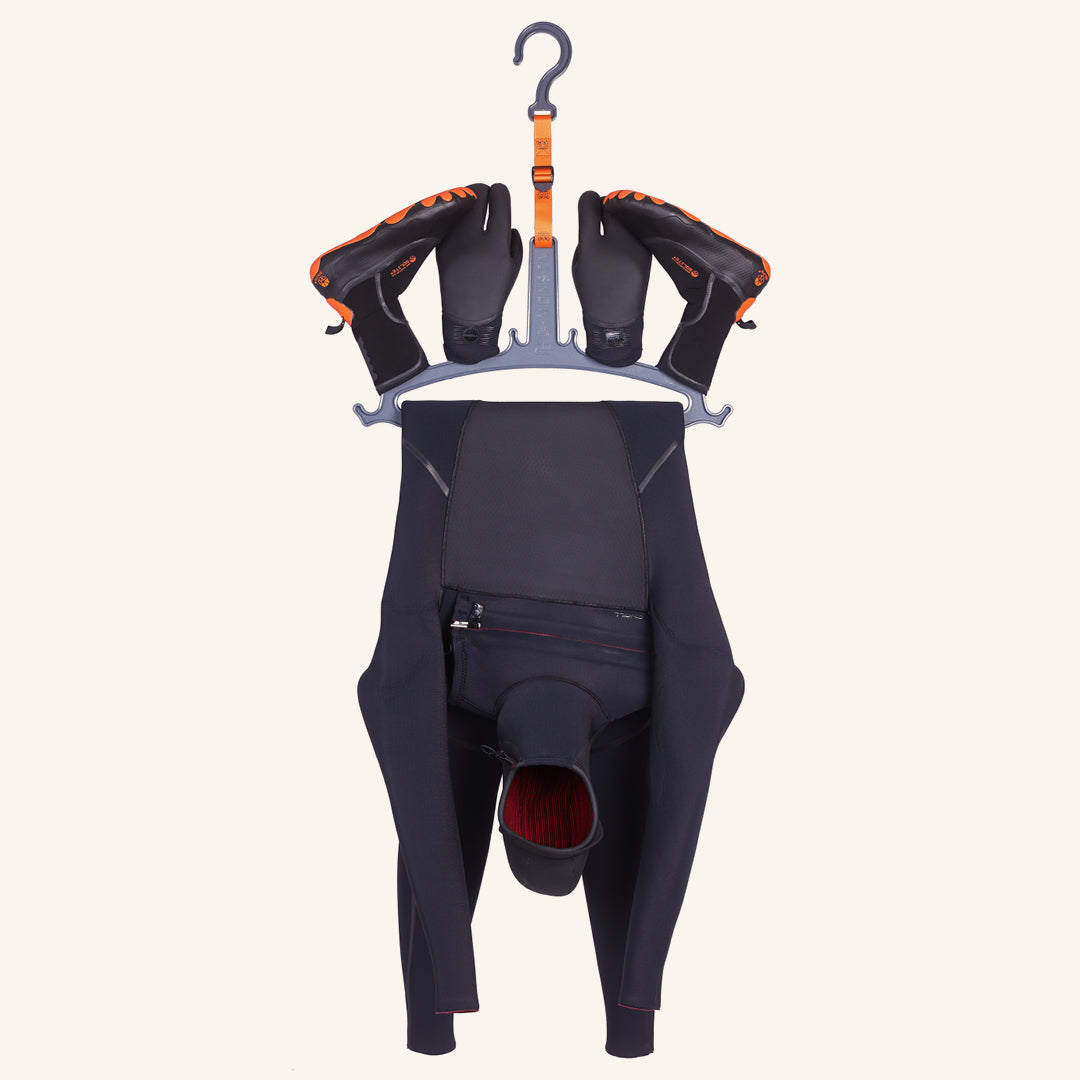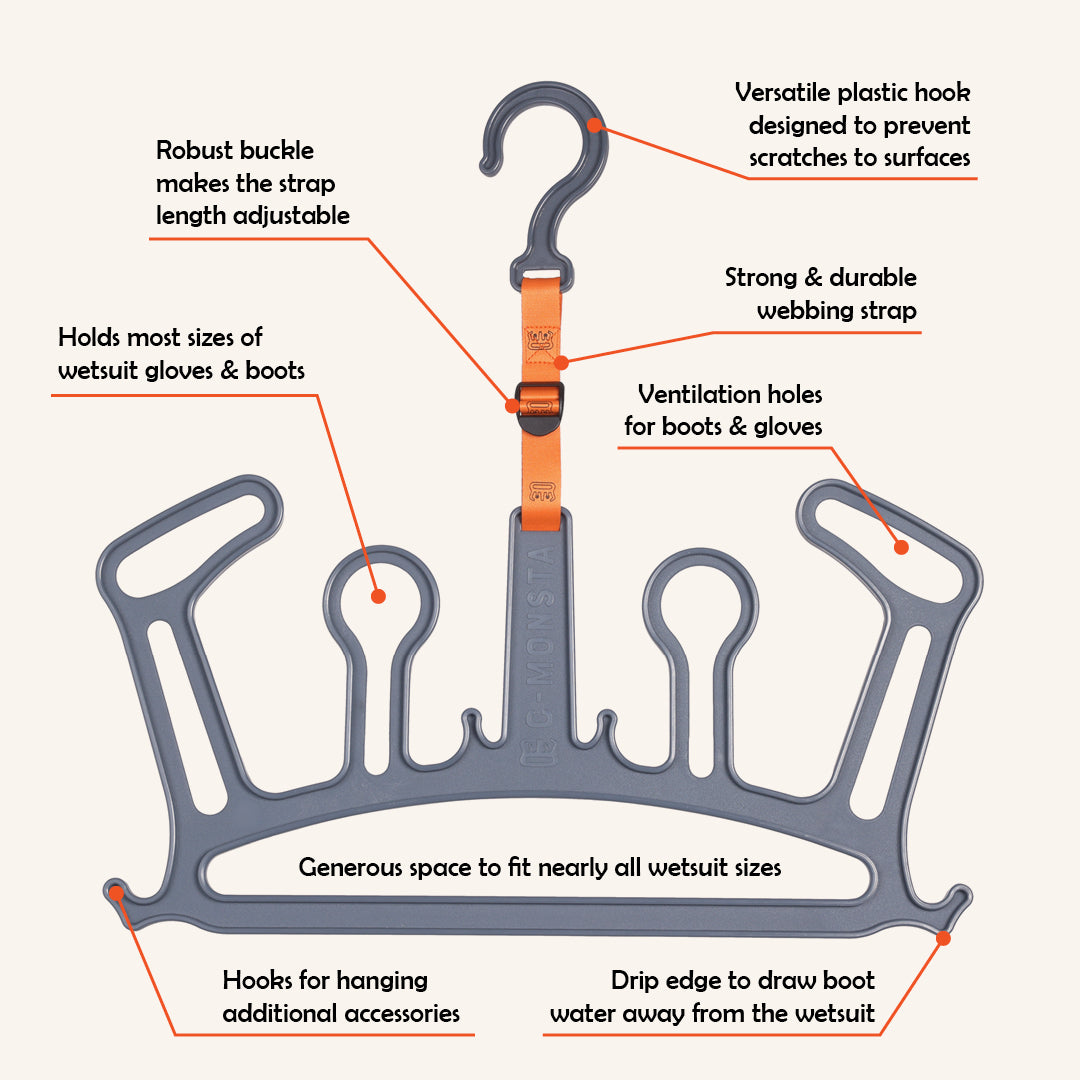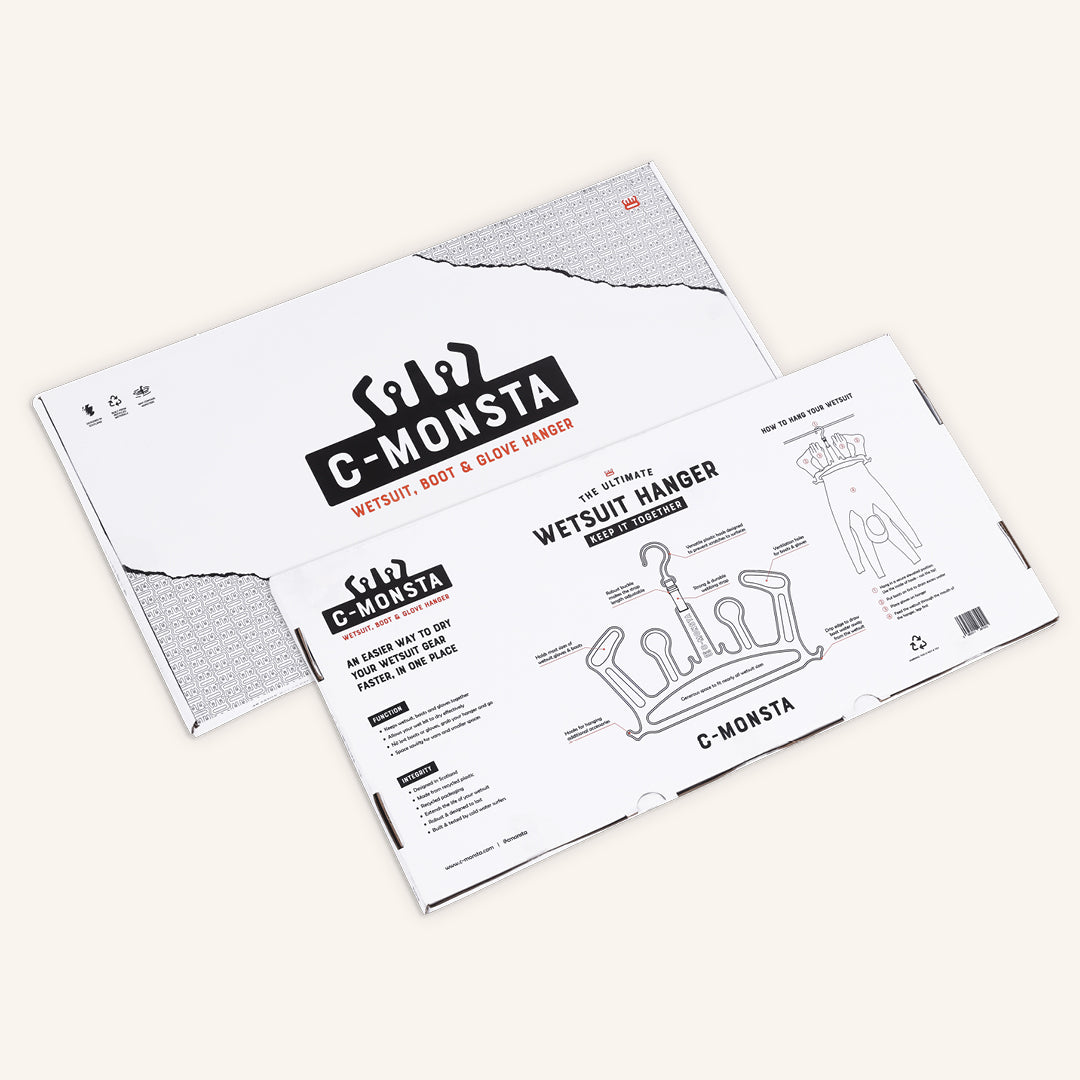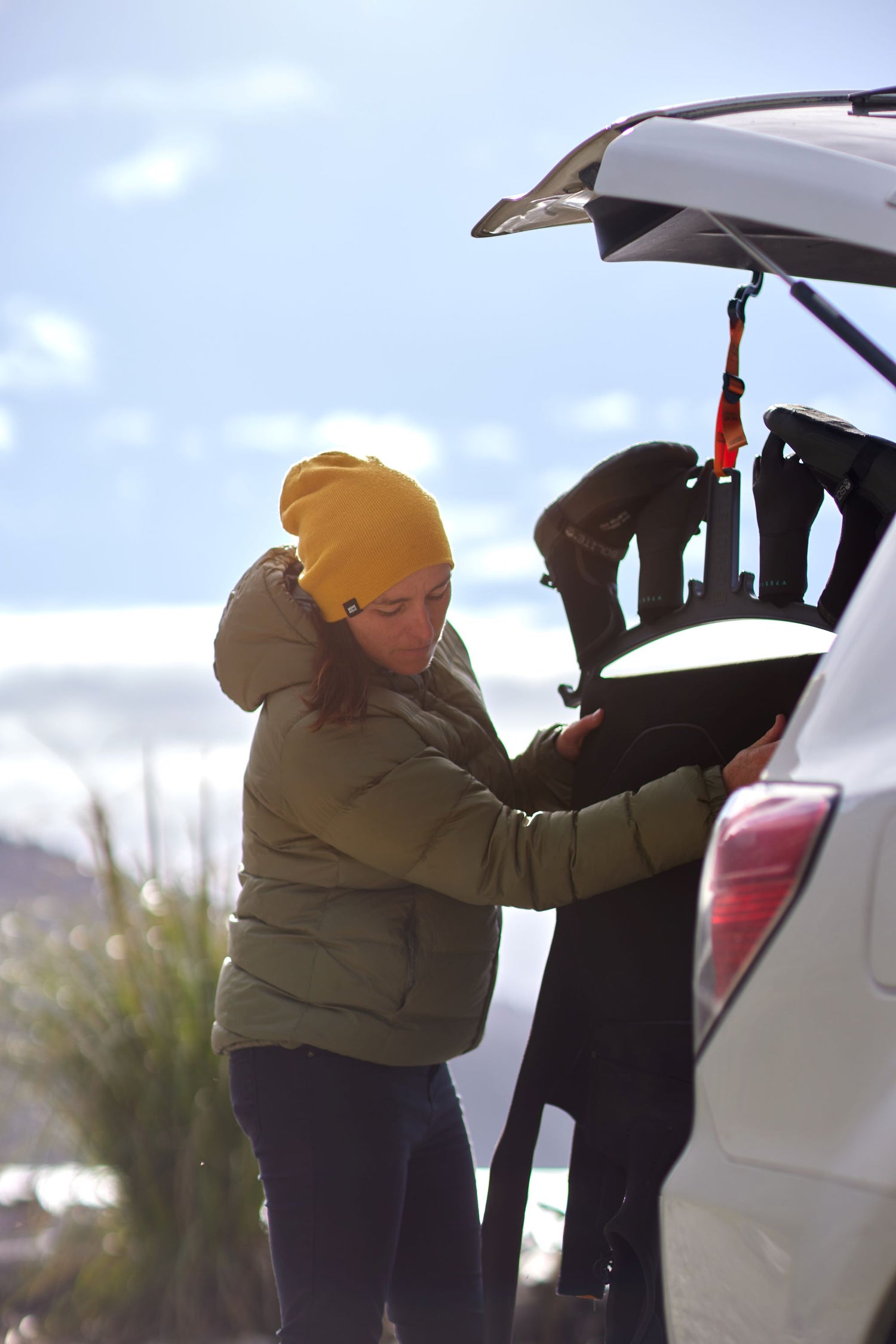 Dries Faster, Lasts Longer
The unique, ventilated design of c-monsta hangers means that you can hang all your gear together in one place, helping it dry faster and last longer.
The oversized mouth will fit almost any wetsuit and prevents those damaging neoprene creases. Ventilated spaces for both boots and gloves helps them dry faster and precisely crafted curves keep dripping water away from your wetsuit. You can even thread the hook and strap through a hood!
The oversized hook is attached to a strong, adjustable strap allowing you to adjust your c-monsta to fit anywhere you need to dry your gear - out the back of your campervan, over a bath or shower or in your garage, away from damaging UV sunlight.
By drying your gear faster it will last longer, save you money and keep more wetsuits out of landfill!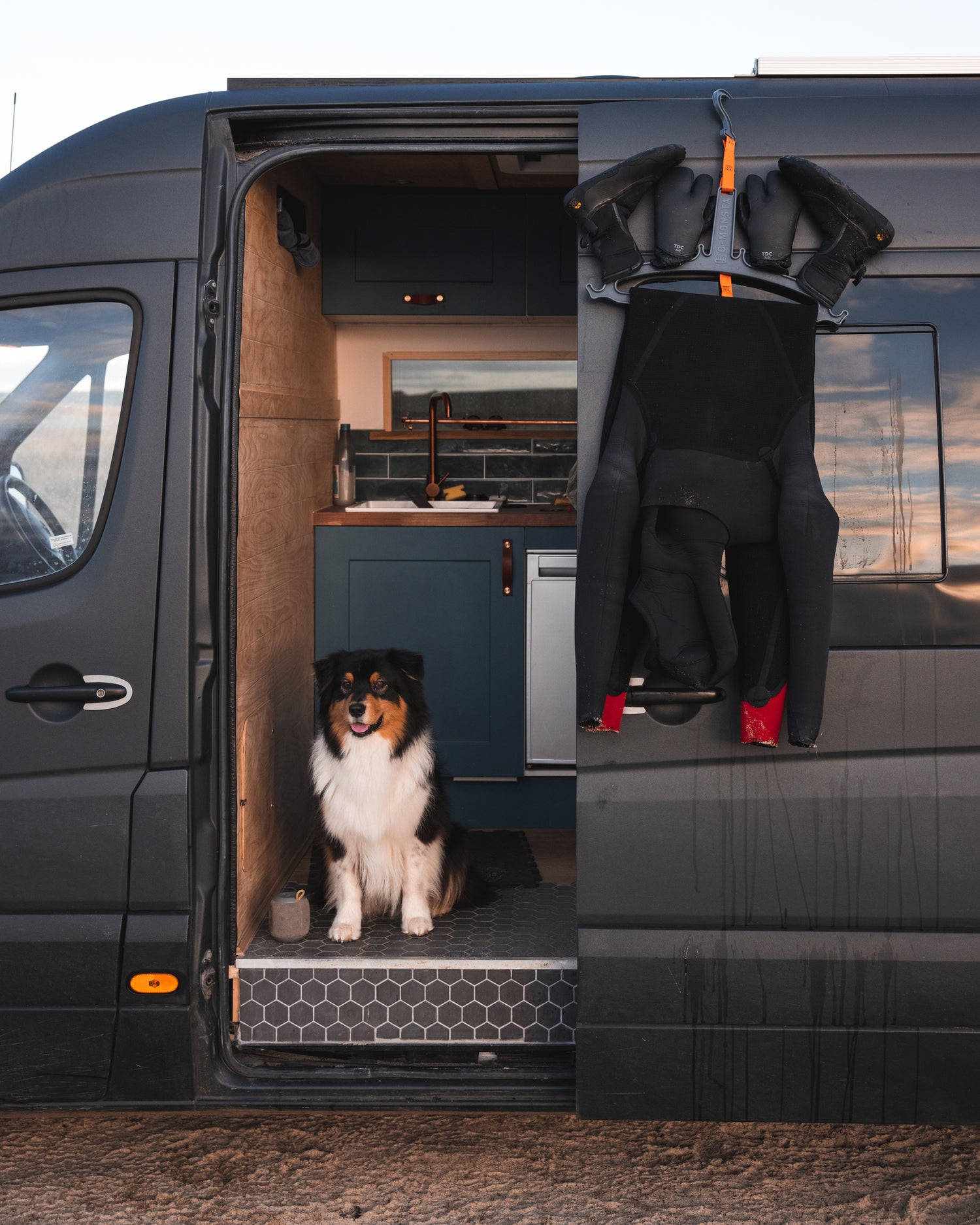 Strong & Robust
Our c-monsta's are built tough. The last thing we want to see is your wetsuit in a damp & dirty pile on the floor because of a broken hanger. That's why our hangers and straps can easily hold up to 15kgs without bending or buckling thanks to our I-beam molded design and tough webbing straps.
This is great for your gear and great for the planet as it means less waste going to landfill and gear that will last even longer. In fact, we're so confident that you'll love your c-monsta that we offer a no fuss, 30 day money back guarantee.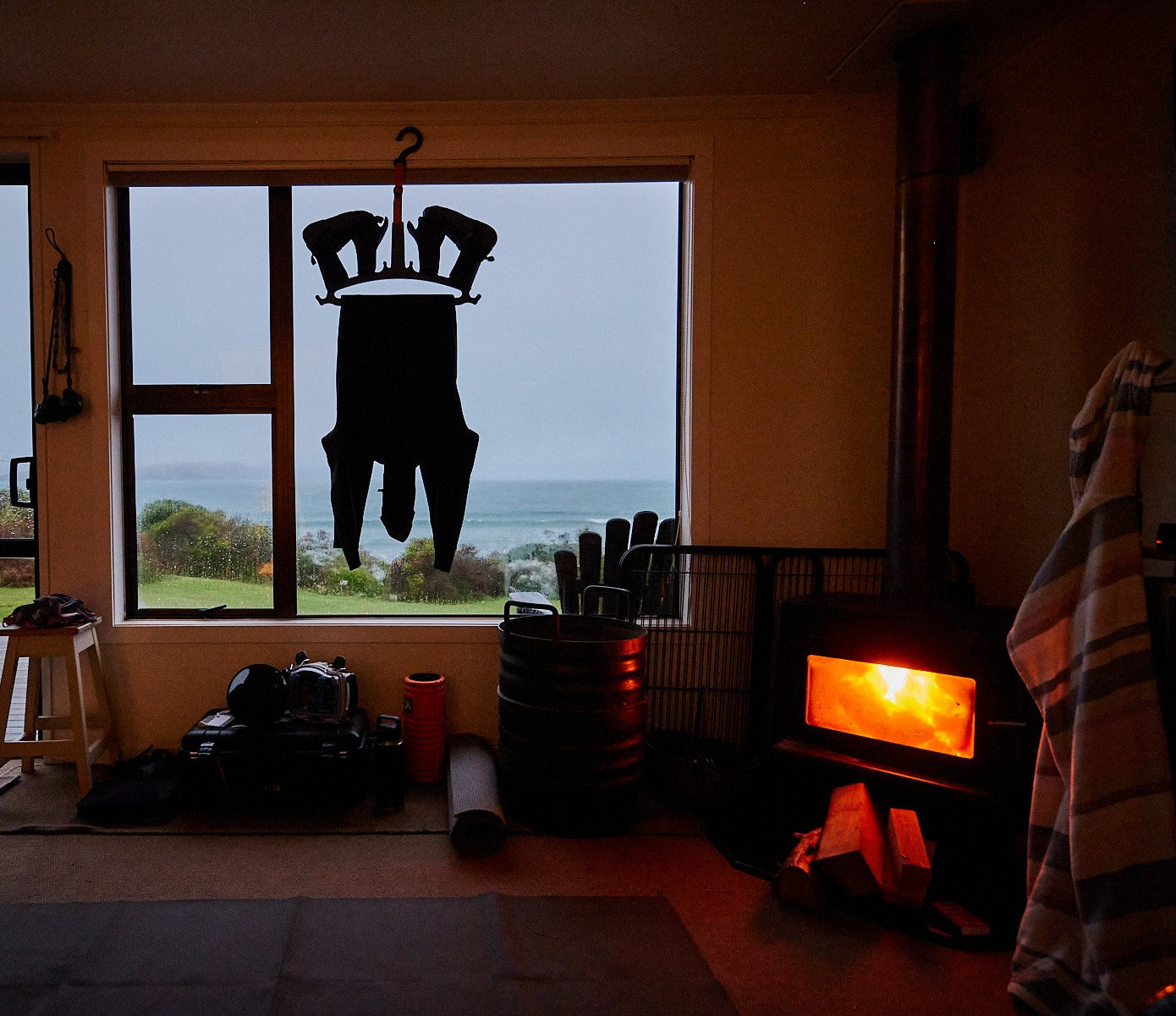 Designed in Scotland
The very first c-monsta's were made in Mark's garage but the design has been refined over years, and many incarnations, to add maximum functionality and help you look after your wetsuit kit.
By using recycled plastic in our hangers we are able to create a strong, long lasting product that helps reduce waste and close the manufacturing loop. It also means your c-monsta can be recycled again at the end of its life. Simply return it to us and we'll recycle it for you and to say thanks we'll send you £3 back or you can get £6 off a new hanger.
Your c-monsta is also shipped in recycled cardboard packaging!